TORLYS
CorkPlus™ BLUE
Underlayment
The TORLYS CorkPlus™ cork underlay is a renewable resource that adds warmth, acoustic insulation and comfort, and comes designed with unique environmental innovations. CorkPlus™ BLUE also has Microban® antimicrobial protection built in for added protection against mold and mildew.

TORLYS VersaLay
Underlayment
Time and cost-efficient, TORLYS VersaLay underlayment is a self-adhesive underlay for Direct Glue LVT floors and used for solid installation without using a special glue. Compatible with floor heating systems, VersaLay smooths out small irregularities in the subfloor, offers acoustic comfort, eliminates the need for adhesives and allows planks and/or tiles to be re-positioned and can be walked on immediately after installation.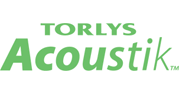 TORLYS Acoustik
4-in-1 Foam
Underlayment
Acoustik's closed-cell foam is a breakthrough for flooring options where sound insulation is a design imperative, for example, in condominium flooring.  It's a premium, sound-rated acoustical foam underlayment and antimicrobial-protected moisture barrier with a 3" self-seal adhesive edge. Acoustik™ offers the highest ratings in reducing impact sound transmission to the level below.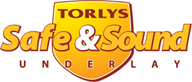 TORLYS 5-in-1
Safe and Sound Floor
Underlayment
Our Safe & Sound Underlay provides the sound insulation you need where acoustics are important. Not only does Safe & Sound have unique acoustic properties, it offers Ultra-Fresh antimicrobial technology to protect your floors from the growth of mold and mildew, its moisture barrier makes it ideal for basements, bathrooms and general installations over concrete. Safe & Sound can be used for glue-down and nail down applications.

TORLYS TOTAL
3-in-1 Foam
Underlayment
Superior sound absorption, floor cushioning, and moisture barrier protection with Ultra-Fresh antimicrobial technology. TORLYS Total 3-in-1 is a top-quality product that has all the essentials in one convenient underlay.
The superior foam underlayment and vapour barrier with a 3" self-seal adhesive edge compensates for small imperfections in the subfloor, reduce noise, increase walking comfort, and protect floors from subfloor moisture.
6 Mil Poly
CGSB Rated. Mandatory over concrete subfloors with cork underlay and cork backed products.
Installation Notes
TORLYS underlayment should be used for all installations involving TORLYS Laminate floors WITHOUT an integrated cork backing. For installations of cork underlayment over all concrete subfloors, a 6 Mil Poly must be used.